Shopping Cart
Your Cart is Empty
Thank you for your business!
You should be receiving an order confirmation from Paypal shortly.
Exit Shopping Cart
Helping Unite Body, Breath and Mind
Pamela Nelson

Certified Iyengar Yoga Teacher, Level 3
I offer a wide-range of classes weekly, retreats & workshops and private and online classes.
I hope you will join me and experience how yoga can benefit you -
body, breath and mind.
May Day of Yoga

May 7th, 2023

Pam's studio in Christopher Lake
Happy Tummy Workshop

April 30th, 2023

Anderson Centre in Christopher Lake

$47.25 (includes GST)
Celebrate Summer Solstice

June 21st, 2023

Outside at Pam's place in Christopher Lake

Celebrating:

Summer Solstice

International Yoga Day

National Indigenous Peoples Day

Class is by donation.

Monies raised will go to support First Nations Child and Family Caring Society
Spring Class Schedule

April to June 2023
Tuesday evening Yoga

Christopher Lake

Apri, May and/or June
Monday Morning Yoga

Online via Zoom

May 1st to June 19th

Recording provided after
Click Here to Add a Title
The Certification Mark
is a registered trademark of the
​Iyengar Yoga Association of Canada used under license

yogena cittasya padena vacam
malam sarirasya ca vaidyakena
yopakarottam pravaram muninam
patanjalim pranjalir anato'smi
abahu purusakaram
sankha cakrasi dharinam
sahasra sirasam svetam
pranamami patanjalim
English Translation:
Let us bow before the noblest of sages, Patanjali, who gave yoga for serenity and sanctity of mind, grammar for clarity and purity of speech, and medicine for perfection of health.Let us prostrate before Patanjali, an incarnation of Adisesa, whose upper body has a human form, whose arms hold a conch and a disc, and who is crowned by a thousand-headed cobra.
You can listen to B.K.S. Iyengar chant the invocation by visiting http://www.bksiyengar.com/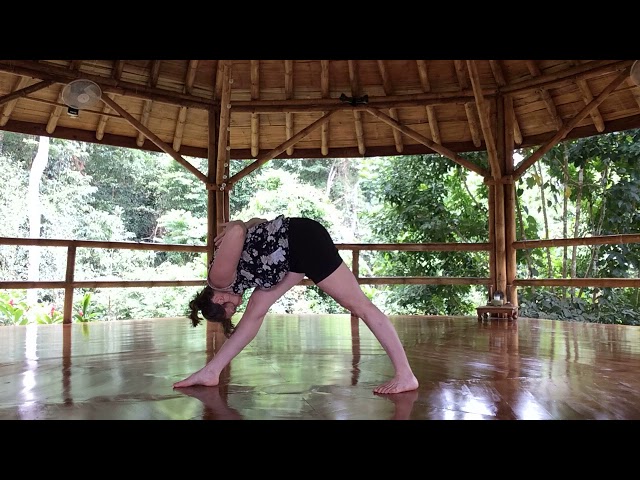 Had a few moments after classes to spend in the wonderful outdoor yoga pavilion in Costa Rica during the Yoga Retreat.
Will be adding a new retreat date and location soon!
A few photos from 2018 when I was doing 100 Days of Celebrating B.K.S. Iyengar. The year ended with my trip to India to study for the second time at R.I.M.Y.I - which is the Iyengar Institute in Pune, India. Students from all over the world travel there to study with the Iyengar family and teachers.
It was great learning experience for me as challenged me to try asana in a new way and explore many possibilities. I also did 100 Days of Quotes and 100 Days of Patanjali's Yoga Sutras. You can check them all out on my blog - www.plnyoga.blogspot.com
"Yoga does not just change the way we see things, it transforms the person who sees."

People often ask how yoga can benefit their lives. I tell them how it has influenced my own life, but emphasize that it impacts different people in different ways. Read what some of my longtime students say about their own personal experiences and from taking classes with me. Feel free to come check it out for yourself, as yoga is for everyone!

Pamela Nelson - Qualified Yoga Instructor
"I've been a student of Pam's for a number of years. In fact it was Pam's teaching that got me into yoga and its many benefits. I consider it an honor and a privilege to have the opportunity to study under Pam. She has taught me that there is so much more to yoga than the asanas. She is the best teacher I have had. Her genuine caring for each student shows in each class. She has the ability to see each persons practice and to assist each person to grow within themselves. She is very knowledgeable and shares her vast knowledge with each student no matter what level that person is at. She always has something new to teach. She is also a continual learner herself as she attends many workshops to advance her own practice and teachings. I would highly recommend Pam to anyone looking for an amazing teacher and person. I am so thankful for Pam and Iyengar Yoga as it is through her instruction that I have grown to be a better person and more connected to my own mind, body and breath. "

"I began enjoying Pam's studio classes around 8 years ago. Her descriptive instruction is easy to follow and understand with optional choices provided for all student levels and abilities. I was thrilled with the addition of Pam's online instruction. This has allowed me the opportunity to grow my home practice and still feel I am part of a great yoga community."

"Pam is a master teacher who is able to work with all levels of ability. I leave her classes feeling refreshed and re-energized!"

In Pam's classes there is a place for everyone, regardless of your level of experience. She provides information about the poses in terms of alignment and offers modifications, while creating a space of calm. In this busy world, Pam's classes are a chance to stretch, unwind and balance. Body, mind and spirit are served well."

"Started at the age of 47 when not easy to be a beginner. Even thought I didn't have much natural flexibility so everything we did was painful. Pam's helping and instructing on how to modify and use props made possible to feel good in and after class. Each of Pam's class is just a beautiful experience of yoga. With so many years of dedication and hard work she really honors beautiful way of teaching of BKS Iyenagr which made yoga poses possible for everyone. She always shows many levels of modifications s well as a final pose with lots of care and help to everyone who comes to classes. Her knowledgeable instructions are amazing and helping me to learn how to get into the pose with right alignment I need for my body and to feel the difference. She is always reminding us of non -harming principle of yoga with encouragement to work on each pose. Her ability to see each student in the class and willingness to take time to help everyone is amazing. Feeling so many differences in by body since started. Also made a huge impact on the way I breathe as I had difficulties with breathing since a very early age."

"Pam's teaching style is very informative. She does such a good job of explaining exactly where all your body parts are supposed to go. She explains how to breath and why this poses is important. Iv'e never had that in a yoga instructor before."

"The yoga classes Pam teaches at noon are the perfect break at work. She chooses poses that counteract the constant sitting and computer work we do all day. I always leave class in a better mood and able to tackle my afternoons more calmly."

"I love Pam's restorative yoga classes. She does a good job of explaining how the poses quiet different parts of the body and nervous system. Her explanations allow me to visualize how I am restoring and rejuvenating my body in this class."

"I've lived in many communities and taken yoga, Pam is by far the best teacher I've had.
Her attention to proper alignment and ability to modify for all abilities has given me the knowledge and confidence to grow in my practice."

Box 393
Christopher Lake, Sk.
S0J 0N0
Please check out and like my Facebook page - @plnyoga
You will receive updates on events, classes and more!
Have a question? Contact Me
I'd love hearing from you, let me know what's on your mind
/